DARTMOUTH COLLEGE
SELECTION OF NEW STANDARD AREA AND SMALL ROADWAY FIXTURE
LIGHTING DESIGN – ROADWAY AND BIKE PATH
HANOVER, NH | 2018
Dartmouth College is located in Hanover NH, a town known for its rural character. Both Hanover and Dartmouth are focused on maintaining the rural nature of the surrounding environment, this includes preserving the tranquility and diversity of the town and campus. Dwaal Lighting Design worked closely with Dartmouth College to select the new standard area and small roadway lighting fixture for the campus.
Dwaal Lighting Design visited the campus during the day and at night to experience the energy of the students during the day and the dim of the evening. The experiences, images and measurements gathered from the campus visit, in addition to current lighting research and recommendations formed the basis of the fixture selection criteria. Once the fixture selection criteria was established and agreed upon, Dwaal used that criteria to narrow down the fixture selection from an initial 27 fixtures to one. The criteria focused on the aesthetics of the fixture itself, but also defined a set of specifications that would allow the fixture to provide uniform lighting at minimal illuminance levels. The goal was to select a fixture that could meet recommended lighting levels for any installation, but to do that in a way that would respect the rural nature of the campus.
Dwaal's Role:
Lighting measurements
Site analysis
Development of selection criteria for the new standard fixtures
Review of fixtures that meet the selection criteria
Guidance for the college in selection of the new standard fixture
Provide final report with fixture specifications for future application
Design the lighting for a wooded roadway on campus, using the newly selected fixture
Click here to see other examples of Landscape or Exterior lighting from Dwaal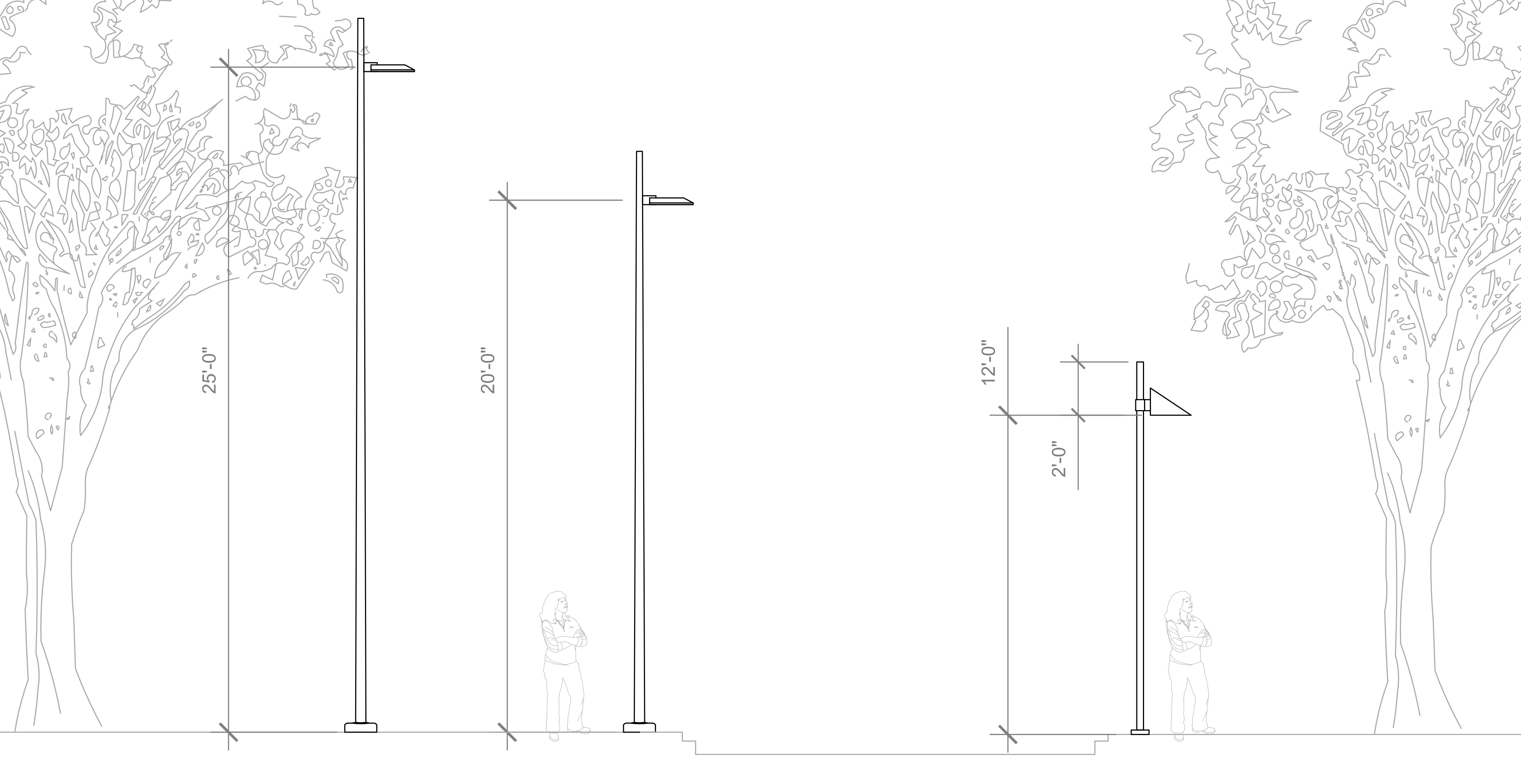 Fixture selection mounting height study – Pedestrian fixtures vs area and roadway fixtures.